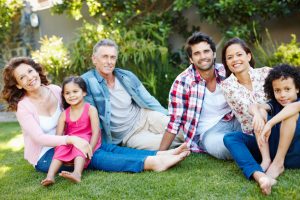 Beautiful colors and that crisp, clean feel, we're always excited to welcome fall here at our office. And for our patients, this season is a great time to prepare their smiles for the next few months, when holiday parties and functions abound. Do you have a dental team you can count on to provide high-quality care for years to come?
Where Experience, Quality, and Trust Meet
Dr. Delaney provides top-notch dental care for patients of all ages. From general checkups and cavity prevention for the littlest smile in your family to cosmetic dentistry or tooth replacement for your own, we've got everything you need to smile healthily and happily for years to come.
General Dentistry Provides Continued Health
Like every home needs a strong foundation to stand tall, healthy smiles require a good layer of general and preventive dental care. Regular checkups and cleanings allow us to remove the plaque and tartar that cause cavities and gum disease. We'll also check for the early warning signs of bigger problems during these preventive visits — and stop them in their tracks with effective restorative care.
Younger smiles need a little extra help in the cavity prevention department, and dental sealants come to the rescue. They are thin sheaths of BPA-free plastic, and they're painted directly onto the chewing surface of the molars. This shield keeps out the acids and bacteria that cause decay and infection. A quick, painless treatment, dental sealants can protect your little one's back teeth from cavities for years to come. Fluoride treatments also strengthen tooth enamel for extra cavity prevention.
For your own health, we perform oral cancer screenings at the end of every checkup. We'll look for the irregularities that could indicate an issue, like bumps, lumps, and any discoloration in the soft tissues. If we suspect an issue is present, we will discuss next steps to aid in the early detection of oral cancer.
Cosmetic Dentistry
Healthy smiles deserve to sparkle. We can help you smile with total confidence with one of our cosmetic dentistry services. Not just for the fabulous or the fabulously wealthy, we believe just about everyone can benefit from cosmetic dentistry.
Tooth colored fillings use a natural-looking composite resin to fill cavities without marring the rest of your smile. And the same material can also be used to close minor gaps, repair chips and cracks, and more. More major smile transformations may need porcelain veneers, beautiful coverings that remake the appearance of severely flawed teeth. For weak, worn, decayed, or otherwise damaged teeth, all-ceramic restorations provide a beautiful solution.
And if you've got a number of smile imperfections that just one treatment can't fix, Dr. Delaney provides the smile makeover. It's a comprehensive approach that reveals a new, beautiful set of teeth.
Emergency Dentistry
Our team offers patients another big benefit — emergency dentistry services. There's no planning for your next urgent dental situation, but it's easier to stay calm when you know who to call. From a knocked out or broken tooth to a severe toothache and everything in between, our team is prepared for the unexpected. Your emergency dentist in Calais will never leave you waiting in pain!
Do you need a dental team you can rely on? We're here for you at Dr. Karen J. Delaney's office. Contact us to schedule an appointment today!