Erase Dental Problems with Restorative Care in Calais, ME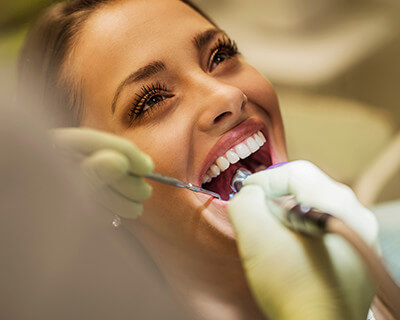 When you're struggling with dental discomfort, damaged teeth, or even teeth that are missing altogether, a happy, healthy smile can feel very far away. Thankfully, our Calais team's restorative options make a world of difference, effectively treating problems and revitalizing your oral health. Don't wait another day – contact us to schedule your first consultation with Dr. Karen Delaney! Our practice welcomes new patients from all over Washington County, including Bangor and beyond.
Crown & Bridge
Damaged or lost teeth can lead to a less functional smile, worsening oral health, and a diminished sense of self-confidence. With a custom crown or bridge, you regain what's been lost! Better yet, our Calais location offers all-ceramic options for more aesthetic improvements that look natural.
Dr. Delaney recommends dental crowns in a wide variety of situations including severe decay, an injury, a generally weakened tooth, misshapen qualities that need correction, or as the finishing touch for a root canal or dental implant procedure. This restoration is designed to "cap" an individual tooth, providing a natural-looking, strong shape that will last.
Dental bridges, on the other hand, are designed to restore one or more missing teeth in a row. Many patients prefer this option to traditional dentures, as they're fixed in place and sturdier overall than a removable solution. Patients will need healthy teeth on either side of the gap; dental crowns are placed over these teeth as "anchors" to maintain this lasting result.
CEREC One-Visit Restorations
Dental crowns and other restorations are a common staple of restorative care, but many patients find themselves frustrated by the multiple appointments and long wait time they endure before they can start enjoying their improved smile. Thankfully, Dr. Delaney is proud to offer her patients the latest in dental technology, which includes our brand-new CEREC machine. With CEREC, we perform the entire restoration process – from design to creation to placement – all in the span of one single appointment. There are no temporary restorations to worry about, no messy impressions – you get to come in with dental problems and leave with new, lasting improvements.
Wisdom Tooth Extractions
Extracting one or more teeth is never Dr. Delaney's first choice by far, but there are some situations where it's necessary to protect the patient's oral health and overall wellbeing. This is especially true when dealing with third molars, more commonly known as wisdom teeth. Because they typically don't erupt in your smile until the young adult years, there's often not enough room to accommodate them, leading to impaction and infection. We'll keep a close eye on this area as patients grow older, and if all signs point towards future complications, we may recommend extraction as a preventive measure. You can rest assured that our team will handle the procedure as smoothly as possible, and comforting options like sedation dentistry are available if needed.