Transform Your Look with Cosmetic Dentistry in Calais, ME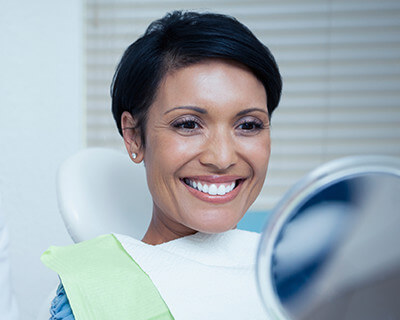 Sadly, a healthy smile isn't necessarily a happy one. Over time, noticeable flaws accumulate on your teeth resulting in a lackluster appearance patients may try to hide. Thankfully, Dr. Karen Delaney is here to help pull you out of the background. With the help of our cosmetic options, patients can escape dental imperfections and enjoy the dazzling improvements they deserve. Contact our Calais, ME office today to schedule a smile makeover consultation! We also see patients from Canada and all over Washington County.
Dandy Clear Aligners
Dandy Clear Aligners are fully customized for each patient using a 3D scan of their teeth. Made of triple-layer elastic plastic for a comfortable fit, the rigid outer layer protects the teeth while preventing stains, and at the same time, the inner part applies gentle forces to correct crookedness and crowding. Plus, each aligner is crystal clear and easily removable, meaning you can smile without drawing attention to your treatment and eat whatever you like throughout the process.
Tooth-Colored Fillings
The days of noticeable, silver-colored fillings are long gone at our practice! Dr. Delaney offers composite resin as a quality alternative that can be shaded to closely match the natural shade of your smile. In addition to its aesthetic value, these fillings can be placed while removing less healthy tooth overall, and because they don't contain metal, they won't be sensitive to changes in temperature like traditional fillings.
Porcelain Veneers
Are you in need of several cosmetic procedures to restore your smile to its former appearance? This can be overwhelming, but it doesn't mean you'll have to break the bank to show off your pearly whites with confidence again. Instead, veneers from Dr. Delaney might be the perfect, catch-all solution you need. These customized, wafer-thin restorations are designed to fit over the visible surfaces of your teeth instead of surrounding them like a dental crown would hiding chips, cracks, gaps, misaligned teeth, and other cosmetic issues under a better, brighter appearance.
All-Ceramic Restorations
Our team believes patients should never have to choose between regaining oral health and maintaining a smile that looks natural. Instead, Dr. Delaney wants to give you the best of both worlds! All-ceramic crowns, bridges, inlays, and onlays are painstakingly designed with your unique look in mind, and the quality material has the same translucent qualities as your original enamel for gorgeous, lifelike improvements. These restorations are also durable and biocompatible strengthening your natural tooth or teeth instead of having a weakening effect over time.
Smile Makeovers
If you're not sure what cosmetic dentistry services you need, you're not alone. We recommend scheduling a smile makeover consultation. A smile makeover is a personalized cosmetic dentistry treatment plan that may include any number of restorative and cosmetic treatment options scheduled, budgeted, and designed to meet a patient's exact needs. No two treatment plans are alike because every dentist custom designs smiles work to make a patients' dream smile reality.