Excellent Preventive Services from Dr. Karen Delaney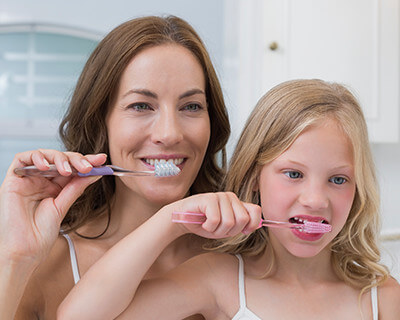 Our team has the skill and drive to overcome even serious dental problems for you and your loved ones – but what if we didn't have to? With quality preventive care, Dr. Delaney can locate areas of damage or decay as soon as they appear and provide protective measures to keep your smile safer. With our support, we hope that you'll be able to enjoy healthy teeth and gums for years to come! Please contact our Calais, ME office today to schedule your first appointment, or if you have any questions for our staff. We also serve residents from Brewer and all over Sunrise County.
Check-ups & Cleanings
Even patients with great oral health should make plans to attend two in-depth check-ups and cleanings every year. If you suffer from sensitivity to decay or gum disease, Dr. Delaney may recommend more frequent visits so our team can closely monitor your situation. Whatever the frequency is, we'll provide a comprehensive approach during these visits learning everything we can about your teeth, soft tissue, bite, jaw, existing restorations, and other important areas with the help of a visual examination and digital X-rays. By identifying potential issues early on, our team can keep you safe from more serious damage down the road.
Routine hygiene appointments are also important, allowing our team to clear away plaque and tartar that accumulate within the mouth leading to cavities, gum disease, and other serious consequences. You'll be amazed by how polished and refreshed your smile feels afterwards!
Dental Sealants
Dental sealants can be the perfect solution for younger patients who are still learning how to properly brush and floss their teeth, especially the hard-to-reach areas in the back of the mouth. Dr. Delaney will paint this safe plastic material over the chewing surfaces of teeth, effectively "sealing" them shut so food and bacteria are less likely to find a home there and cause tooth decay. The application is quick and painless, and with proper oral hygiene, sealants can last 10 years or more.
Oral Cancer Screenings
Oral cancer is a serious condition that affects tens of thousands of patients every day; in fact, on average, one person dies from it every hour. This happens because most cases aren't actually diagnosed until advanced stages making the chances of recovery low. Here in Calais, our team hopes to improve the odds with routine oral cancer screenings. During this vital part of your routine check-ups, Dr. Delaney will closely inspect soft tissue for any signs of cancerous cells taking note of suspicious areas and ensuring you receive further treatment if needed.
Fluoride Varnish
Fluoride is an important mineral that can strengthen teeth and lessen the risk of cavities, and sadly, many children aren't getting enough of it. That's why Dr. Delaney may recommend a fluoride varnish. This treatment is applied directly to teeth, and because of its quick adherence, there's no risk of the patient swallowing any. The process is quick and simple, and it's perfectly fine to return to eating and drinking shortly afterwards. Better yet, studies show a fluoride varnish can reduce tooth decay and even reverse forming cavities.
Gum Disease Treatment
Gum disease is one of the most common health problems on the planet – in fact, research suggests that up to 75% of people in the US may be victims, whether they're aware of it or not. Thankfully, our team keeps a close eye out for potential signs of gum disease at your appointments. If we determine that treatment is needed, several options are available, including antibiotic therapy, an in-depth cleaning known as scaling and root planing, and state-of-the-art, non-surgical intervention.
Children's Dentistry
The experiences you have at the dentist when you're young color your opinions about oral health for countless years to come. That's why Dr. Delaney and the rest of our team are determined to make them great! We love families, and the care we provide for the littlest members is personalized and gentle. Check-ups, cleanings, dental sealants, fluoride treatment, and more will be a big help in protecting and strengthening their growing smiles.
Family Dentistry
Dr. Delaney and her dedicated team are proud to offer comprehensive dentistry services for patients of all ages. As a family dental care practice, we invite patients to schedule appointments for every member of their families in our comfortable, convenient practice without the need to coordinate numerous visits to multiple practices. We offer a number of treatments for young patients including dental sealants and fluoride treatments as well as advanced care for our more senior patients including periodontal therapies and dentures.